Peru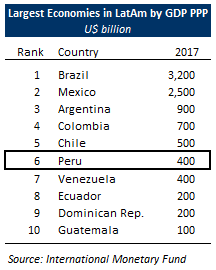 Peru is the 7th largest economy in Latin America, and 4th largest in terms of territory. Its relatively young population of 32 million – with a median age of only 28 years - generates a GDP of U$ 400 billion.
During the last 22 years, the country's economy has been enjoying solid economic growth and accelerated Foreign Direct Investment. This is due to the country's widely acknowledged proactive investment environment.

Over the last years, Peru has been one of the fastest growing economies in the region, driven by its economic liberalization program which resulted in strong - and sustained - investment in the mining, energy, infrastructure, and value-added agribusiness sectors. This rapid modernization has translated in growing cashflow and purchasing power of the population, reflected in the activities of trade, consumer products, banking, and construction.

Similar to Mexico and other Latin American countries, international investors should be aware of the many challenges the country still faces - many of these translate into unique business opportunities.

The international financial community has acknowledged Peru's impressive performance, resulting in Investment Grade ratings since 2008.